SPI SheetMetal Inventor
Home » SPI SheetMetal Solutions »
SPI SheetMetal Inventor for Autodesk Inventor expands the sheet metal functionality of Inventor by providing innovative features. In particular, it helps to streamline the process chain and to directly transfer data to the production.
Free Trial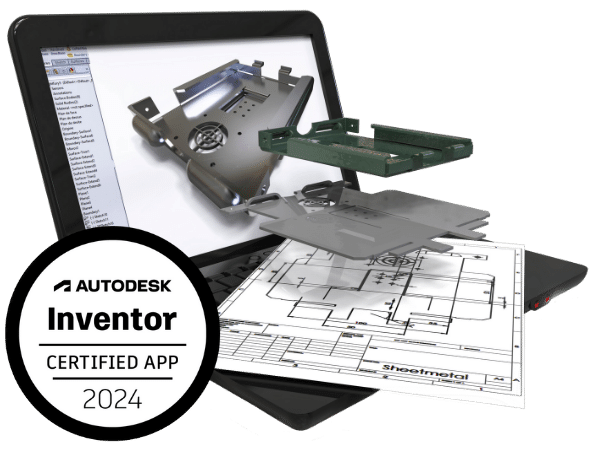 What are the benefits of using SheetMetal Inventor from SPI?
Modern technology has revolutionized the way sheet metal parts are produced. Clever bending can render such manufacturing steps as milling or welding obsolete.
The once necessary assembly and joining of individual parts can be completely bypassed by using suitably designed and accurately produced parts from bent sheet metal.
To make this possible, we need specialized software that – in line with the principles of industry 4.0 – delivers a manufacturable unfolding of the component as well as an NC program for lasering or punching and for controlling the bending machine.
Design and IT specialists in the sheet metal processing industry need software that covers all the steps from the idea to the finished product, streamlines the sheet metal process chain, and maximizes the savings potential.
We at SPI develop exactly that.
Continuity in the process chain
Unfolding parts with inaccuracies
Editable material and tool management
Checking of manufacturability during unfolding
Available CAM interfaces for TRUMPF, WiCAM, and more
Transfer to NC programs (punching, lasers, bending)
Cost calculation with export options
The technology behind the scenes
During bending, the sheet metal plate undergoes certain alterations because the forming process changes the distribution of material in the workpiece. This effect must be included in the calculation of the unfolding, i.e., the flat pattern. In order to determine the blank length of the flat sheet metal component on the basis of the 3D drawing, a compensation value – the shortening factor – must be calculated.
The flat pattern calculation in the SheetMetal Inventor is based on material and bending tool properties from a technology database. It is not necessary to laboriously create the values for this yourself, they can instead be imported from machine databases such as TruTops Bend. The built-in Data Editor database also defines which calculation method is used and how: you can choose between A4 formula, DIN formula, K-factor formula, your own formula, or empirically determined values. During design, you can define these settings individually for each bend line.
The software calculates the manufacturable unfolding, which you then pass on to laser, punching, or bending programming and which can be effortlessly used to control the machines.
Thus the SPI SheetMetal Inventor purposefully supports you already during the design.
You can also attach this kind of information to already constructed, imported models. When importing, the software automatically detects sheet metal thickness to ensure that correct unfolding is guaranteed even in the event of model inaccuracies.
Already after the first half a year we saw 80 to 90% time savings in creating drawings of individual parts. Overall, together with the improved sheet metal design we save approximately 50% of the time compared to the previous effort.
An important advantage of the SPI solution is that we can design almost 'square', without reliefs and fillets. The SPI software independently creates the edge radii based on information from its material database.

Our standard – to meet our customers' wishes for high quality at a fair price and in a reasonable time frame – has been fully met. Certainly because of our know-how, but not least thanks to the tools available to us.
Frequently Asked Questions
Where is SPI SheetMetal Inventor used?
In principle, where precise unfolding is required. Typical areas of application include mechanical and industrial engineering, chemical and pharmaceutical industries, iron and steel production, filter and heating systems, ventilation technology, pipeline and container construction, silo technology, cooling systems, power plant construction and operation, shipping industry, transport systems for grain mills, process engineering in food technology, and more.
What does the unfolding function do?
Any number of unfolding views can be created in a document. Optionally, a GEO file is generated for TruTops Classic and TruTops Boost, which contains the bending, punching, and manufacturing information. An unfolding generated by SheetMetal Inventor can also provide the required data for NC controlled bending machines from Delem and Cybelec. This geometry can also be used in many other NC systems.
What does "simplified design" mean?
SPI SheetMetal Inventor offers commands specifically for the construction of "sharp-edged" models without reliefs. The software calculates the exact cut in seconds. The automatic corner relief function is also possible for rounded bending zones. Unwanted cutouts, which would have needed to be modelled afterwards, are a thing of the past. The corner and bending zone reliefs, as well as the blank length, are precisely analysed and reliably taken into account when creating the flat pattern.
What are the benefits of "learning tool recognition"?
With the SheetMetal Inventor, you can include a wide range of typical parametric punching and forming tool classes when exporting the unfolding geometry (e.g., GEO or WiCAM XML file format). The information required for this can be easily read into the software's tool management, e.g., from TRUMPF databases. However, sometimes a tool is identified when importing a file. With the function "learning tool recognition" you can permanently assign tool data to a forming area. Once SheetMetal Inventor has "learned" this information, the tool is identified and automatically assigned when unfolding sheet metal parts with identical 3D geometry.
What does the SheetMetal Inventor pipe library offer me?
As an extension to the basic capabilities of Autodesk Inventor, SheetMetal Inventor provides a solution for design and unfolding of complex pipe parts and fasteners. It is particularly useful in those design segments of piping technology, where high load capacity plays a crucial role. You can easily combine sharp-edged transitions with rounded fixing attachments. You can expand the SPI Component Manager library by adding your own templates. For example, by using the standard transition to create various combinations of cylinder and cone intersections.
Consideration of the production radii and bending factors already during construction.