 26. – 29.10.2021.
Exhibition hall 1, booth 1005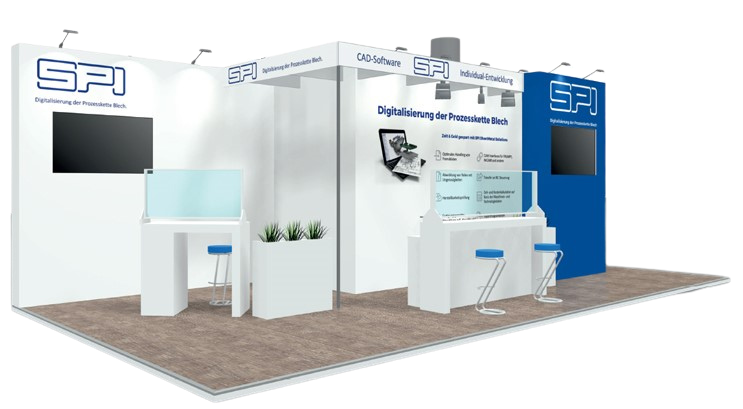 After a longer break, we are looking forward to welcoming you at an in-person trade fair this year.
At our stand in exhibition hall 1, booth 1005 you can expect live demonstrations and personal discussions on the topics of "continuous process chain, manufacturing-ready sheet metal unfolding, cost calculation alongside design" and more.
We look forward to meeting you!
Continuous process chain
Learn how SPI software solutions can be used to reduce design errors, cut down pre-production work, and enable seamless collaboration between design and manufacturing.
Cost calculation in real-time
Cost-conscious design is more important than ever. We will show you how to configure your framework, calculate the cost of your products, and evaluate design and manufacturing alternatives.
Automated sales processes
With the help of SPI sheet metal solutions, you can go a step further and let your customers calculate the prices themselves and place their orders in your online shop. Visit our stand
to learn more!
e.g. the new feature "Three views + dimensioned unfolding at the push of a button"

Meet the SPI team at the Blechexpo 2021!
Mathias Schöwe
Sales Manager and tech-savvy digitalisation expert
Mario Rogge
Project Manager, CAD specialist, and skilled process navigator
Ingo Jarsen
Consultant and
passionate CAD trainer
You already know when you will be at the trade fair and you would like to visit our stand? Avoid waiting times and make an appointment with our team!
When you book an appointment, you will also receive a free ticket.
Opening hours:
Tuesday the 26th until Thursday the 28th October 2021: 9:00 a.m. to 5:00 p.m.
Friday the 29th October 2021: 9:00 a.m. to 4:00 p.m.
Blechexpo admission tickets
You would like to attend the Blechexpo trade fair?
Receive a free admission ticket and visit the SPI stand in hall 1, booth 1005!
I would like a free ticket!